Hourly Financial Planning
We work together to do a comprehensive review and answer your questions at an hourly rate of $300 an hour.
Most comprehensive engagements range between $2,500 and $3,500, which includes a financial independence plan, tax analysis, investment analysis and recommendations, insurance review, and more. 
I don't offer engagements that address one or two questions that may only take a few hours. 
Below are a few examples of topics I could discuss and provide guidance about:
Review overall investment allocation
Review your investments and whether each investment is in the most tax-efficient accounts
Do multiple Roth conversion scenario analysis to help optimize taxes over your lifetime
Charitable giving strategies, such as Qualified Charitable Distributions (QCDs), giving stock, and Donor Advised Funds (DAFs)
Read your estate plan and go over it with you to identify areas that may need updating
Build a financial independence plan to determine the likelihood that you need to save more or adjust your spending in retirement
Provide long-term care insurance guidance
Discuss extra support services, such as eldercare consultants, home health aides, or therapists
Review home, auto, umbrella, and life insurance to identify any gaps in coverage
What is the Potential Value?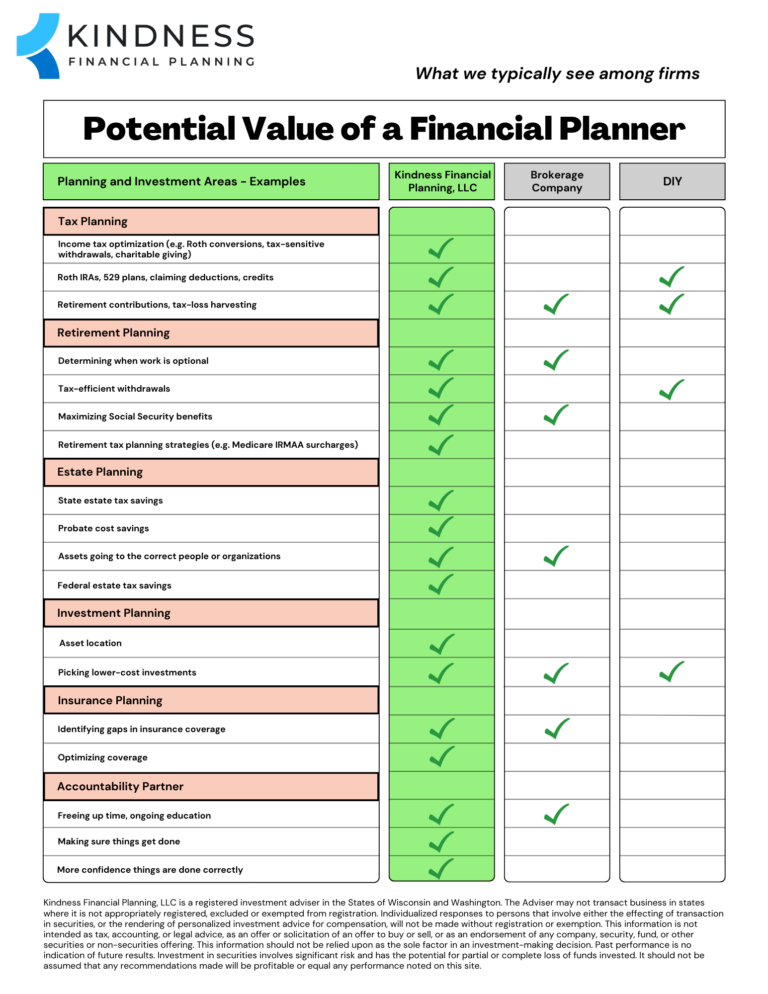 Educational and Thoughtful Content To Your Inbox