Let's run through a scenario: you are driving home tomorrow and are hit by a reckless driver. You die on the spot.
What happens to your digital assets? Do you have a digital estate plan? How do your family or friends access it?
I've helped people pick up the pieces after a death and know first hand how much more challenging life can be without a digital estate plan.
Without a digital estate plan, you may leave a mess for your loved ones to pick up — along with it, trauma.
Although creating a digital estate plan takes time, it can be a kind gift when it needs to be used.
What is a Digital Estate Plan?
A digital estate plan is a plan for how your online accounts or digital assets will be managed if you become incapacitated or die.
What are Digital Assets?
Your estate plan typically covers your physical assets, such as your home, collectibles, vehicles, financial accounts, and your liabilities, but it does not always include your digital assets.
Your digital assets may include:
Passwords
Email accounts
Social media (Facebook, Instagram, LinkedIn, Pinterest, TikTok, etc.)
Domain names and blogs
Virtual currencies
Photos or videos saved online
Loyalty programs (frequent flier miles, credit card points, etc.)
Online gambling accounts
Content in phone apps or online games
Digital rights to music, videos, or books
As the world has become more digital, digital assets are becoming more valuable — both in dollars and feelings.
Imagine someone losing the photos backed up to your Apple account or hundreds of thousands of miles in an airline loyalty program.
Both are irreplaceable.
How to Create a Digital Estate Plan
Creating a digital estate plan doesn't need to be complicated. Like anything else worthwhile, it takes time, but if you break it into actionable steps, you can make progress.
Create a List of Your Digital Assets
The first step is creating a list of your digital assets.
Write down or create a document listing every possible digital asset you own. You may need to come back to this list multiple times because of the amount of digital assets you've created.
Did you include every email address? What about every online account? Do you know the passwords to every account?
I recommend using your computer for a few weeks to see what you log into. Unlike your physical assets, which you can see and take up space, your digital assets are easier to miss.
You could consider categorizing your digital assets into different groups, such as:
Financial or valuable

Examples: Bank accounts, credit card points, etc.

Critical information

Examples: Passwords or password managers, in case of emergency documents, etc.

How to contact people

Examples: Emails, social media, etc.
Create Access to Your Digital Assets
Once you have the list of your digital assets, figure out how to create access during emergencies.
For example, you could consider using a password manager or vault that a loved one can access if you are incapacitated or die. For social media accounts, you can consider putting a legacy contact on your account that can manage your profile. If you have business interests, you may need to give online access to them in advance or include it in your estate plan or other legal documents. 
Coordinate with Your Existing Estate plan
Finally, coordinate your digital estate plan with your existing estate plan. If your current estate plan does not address your digital assets, consider speaking with your attorney to include language that addresses it in your Last Will or Trust.
Each state can handle digital assets differently. Many states have passed the Revised Uniform Fiduciary Access to Digital Assets Act (RUFADAA), which allows people designated in your will or legal documents, such as power of attorney, to access your digital property.
However, RUFADAA doesn't allow access to everything. For example, unless you work with an attorney to create language in your Will about email, the person you designated may not be able to access the content of past emails. That's important to keep in mind in case you plan on storing important information in your email.
Don't rely on online Will creators. To minimize the chances of making the process harder on loved ones, speak with a qualified attorney who can talk you through how to set up your estate plan to handle digital assets.
Now that you know the basics of creating a digital estate plan, I'll go into more detail about the steps you can take to make it easier if you become incapacitated or die. 
If you were incapacitated, how would your loved ones gain access to your accounts to pay bills or complete other everyday tasks for you?
Even if they have a power of attorney, it can take time to gain access to accounts. I've seen it take weeks as it goes through a "legal review" process. I've even seen places refuse to honor a power of attorney because it wasn't the company's power of attorney or it missed key powers that they wanted to see in the documents. You can fight it, but it takes time.
I see many people recommend sharing passwords or allowing for an emergency contact to gain access to an account if you are inactive for a certain period of time.
Although you could keep a list of passwords on a piece of paper, that's usually not secure and may not be accurate if you update a password and forget to update the list.
An alternative method is to use a password manager, which can store your passwords in a vault. This way you only need to remember one complex password to access the rest of the passwords. 
Some password managers come with an emergency feature to give access to someone if they request it and you don't respond within a certain period of time. Others may allow you to print a PDF with authorization codes to gain access, which you can store in a secure location that your loved ones can access in an emergency. You could also use a password manager that has a family vault for shared passwords.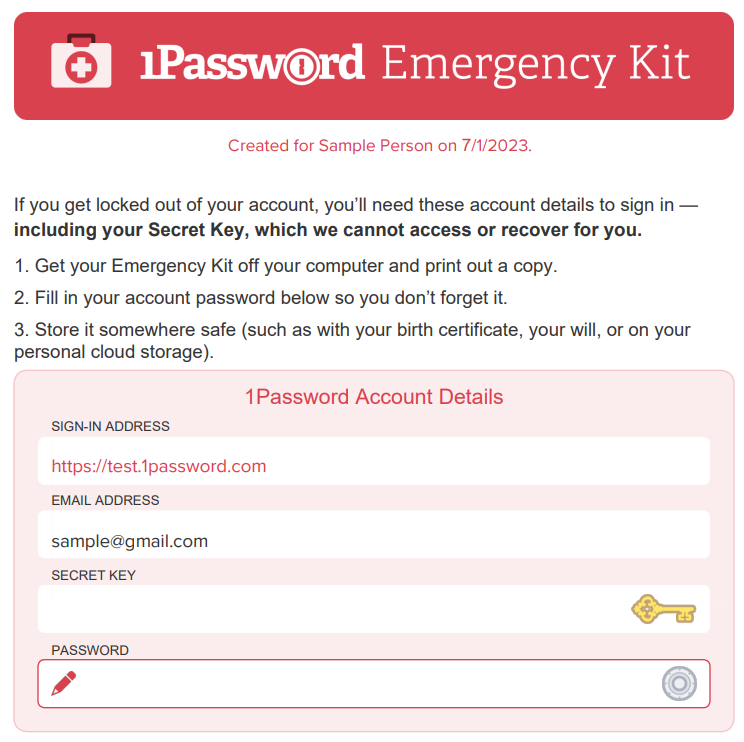 Tip: If you follow this route, don't forget to include your phone password! Many online logins require two factor authentication and your phone may be needed. 
Although sharing passwords is common, consider that sharing passwords and accessing an account may be a violation of federal or state laws if you are not an authorized user.
How to Create a Legacy Contact for Major Accounts
Besides your passwords, you may want to create a legacy contact for Google, Apple, and Facebook.
If there are other accounts you use, look into what options they have for a legacy contact.
Google's Inactive Account Manager
Google's Inactive Account Manager allows you to share part of your account if you've been inactive for a certain period of time.
You can identify a trusted contact to download your data and specify which data is available to them. 
Apple's Legacy Contact
Apple's Legacy Contact allows you to identify someone who can access your Apple account after death.
They may be able to see your photos, messages, notes, and files for a limited time until the account is deleted.
Facebook's Legacy Contact
Facebook allows you to identify a legacy contact that can manage your page — either to delete it or manage your profile once it's been memorialized after you pass away. 
For example, they may be able to update your profile picture, view posts, or write a pinned post for your profile, but may not be able to read your messages or remove friends.
Create an In Case of Emergency Document
An in case of emergency document is one of the best gifts you can give a loved one if you become incapacitated or die.
It's the roadmap for how to locate your important information. It can also be helpful for you if you ever need to evacuate your home.
It includes items, such as:
Personal and important contacts information (email addresses, addresses, medications you take, work address, school address, and phone numbers)
Professional team information (doctor, lawyer, accountant, financial planner, insurance agent)
Location of important documents (passport, birth certificate, Social Security card, estate planning documents, and other legal documents)
Financial information (list of bank, brokerage, retirement, credit card, mortgage, and other debt accounts)
The in case of emergency document should include everything someone needs to contact the important people in your life, locate your financial accounts, and pick up where you left off.
Someone should be able to operate your life using the in case of emergency document.
If they can't, there are not enough details.
You'll also want to make a calendar reminder to review it annually. If you open a new bank account, credit card, change a medication, change jobs, or your life changes in any other way, you should update the document.
By keeping it updated at least annually, the person who needs to use it will have an easier time tracking down the important people and information in your life. 
Add Your Digital Assets to Your Estate Plan
Although creating a digital estate plan is helpful, it's not as helpful if you don't include it in your written estate plan.
Your digital estate plan gives no authority to the people you want to be able to use it unless you give them specific powers in your Will, Power of Attorney, or Trust documents.
If your estate plan does not include language about your digital assets, I recommend speaking with your attorney about doing a new will or codicil to a will, which is a way to modify your Will without needing to do a new one.
Don't forget to talk with your attorney about adding language to your power of attorney documents to handle digital assets. If you become incapacitated and want a loved one to help you with your financial affairs, they may need access to email or other digital assets.
I've been a durable power of attorney for my dad, and I am thankful we set up his documents to include language that allowed me to pick up and help when he was unable because of cognitive impairment, hospitalizations, and other medical issues.
Have a Family Meeting to Discuss Digital Assets
Have you ever created a plan, thought it was great, but then when you tested the plan, it didn't work as intended?
Don't let that happen to your digital estate plan.
Organize a family meeting to discuss your plan in detail, give loved ones the opportunity to ask questions, and do a test run of the plan.
If you aren't sure how to start the conversation, you can read about how to talk to your adult kids about money and inheritances. Many of the same strategies apply.
Here are a few questions to consider:
Do they understand what digital assets you have?
Do they know how to locate your in case of emergency document?
Have you tested whether they can get access to certain digital assets?
Is there more than one person who understands what needs to be done?
Can they do all of this without your help? 
Your plan is only as good as the ability of your loved ones to follow it.
The family meeting is an opportunity for everyone to come together to understand and test it.
The Importance of Cell Phone Access
As you create your digital estate plan, don't forget to include access to your cell phone.
Many websites require two factor authentication, which often means a password plus a code texted to your phone or accessed in an authenticator app on your cell phone.
If your loved one is trying to access a website, they may have the password, but they may not have access to the authenticator app or other form of authentication without your cell phone.
Did you include the password to your cell phone in your password manager or in case of emergency document?
If your phone is lost or stolen, is someone listed on your account to speak with the cell phone company?
I ran into this issue with my dad. During a hospitalization, he lost his cell phone in the hospital and was unable to access many of his online accounts. Since he was in the hospital, he was unable to get a new cell phone.
The cell phone company wouldn't talk to me without a handwritten note and a copy of his ID card, so we had to write out a note, have him sign it, and make a copy of his ID.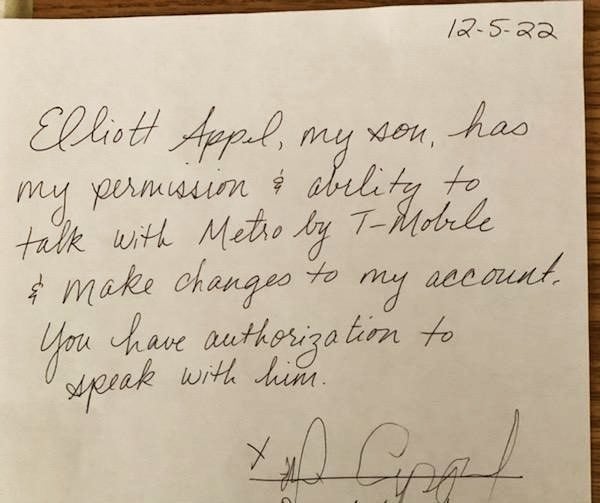 Thankfully, he was able to sign a piece of paper, but if he hadn't, we would have had significant issues accessing information he needed.
One idea is to put an authorized person on your account to speak with the cell phone company and/or include any code that gives someone access to the account.
A cell phone is becoming a more critical part of online access due to two factor authentication. You should create a plan for how someone could access that data if your cell phone is unable to be located.
Final Thoughts – My Question for You
As digital assets become more valuable and important to people, it's vital to create a digital estate plan.
Start by creating a list of your digital assets, creating access to them, and coordinating it with your existing estate plan.
From there, remember to hold a family meeting to test out your plan.
Finally, remember to review it annually to keep it update.
I'll leave you with one question to act on.
When will you create your digital estate plan?